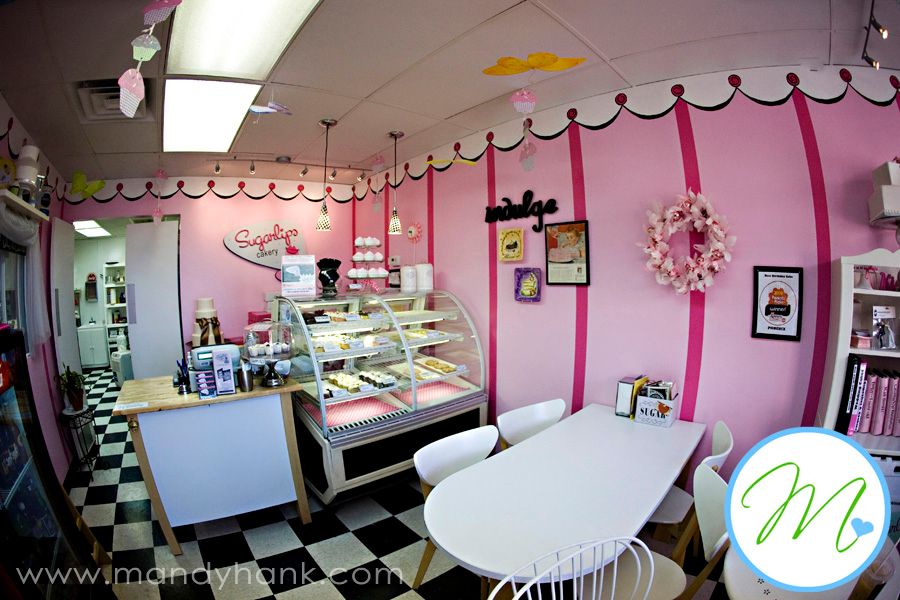 A few years ago I was searching online for an awesome cake company that could make Hunter's 1st birthday cake. We were doing a huge big "Hunting/camo/safari" theme (hence the name Hunter.) All of a sudden I came across
Sugarlips Cakery
. I was immediately draw to the name and decided to give her a call. She delivered Hunter's cake to me and the minute the cake box open, my heart fell to the floor and I was in awe. It was adorable. She still has it on her gallery page today-
click her to see it
From that moment on, I have been looking for extra occasions to get cakes through Melodie and
Sugarlips Cakery
. I get my kids birthday cakes from her every year and if I wasn't married already, she for sure would do my wedding cake!! I highly recommend them to all of my brides. They are very creative, very reasonable and her little shop is to die for. Each time I walk in, I fall in love. The walls and the decor are so nicely done and there is so much to look at.
I went to her shop to take some pictures to show you and also wanted to let her tell you about her business. :)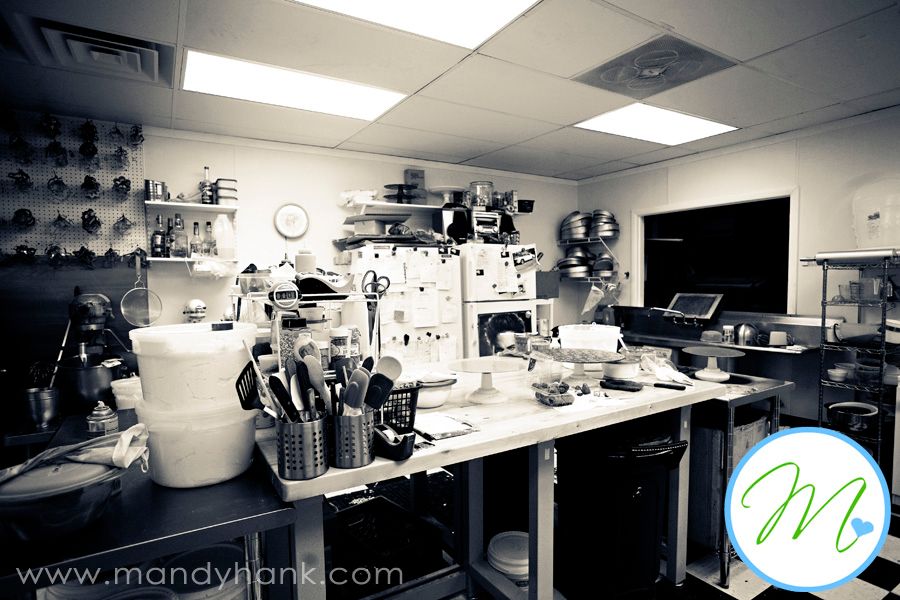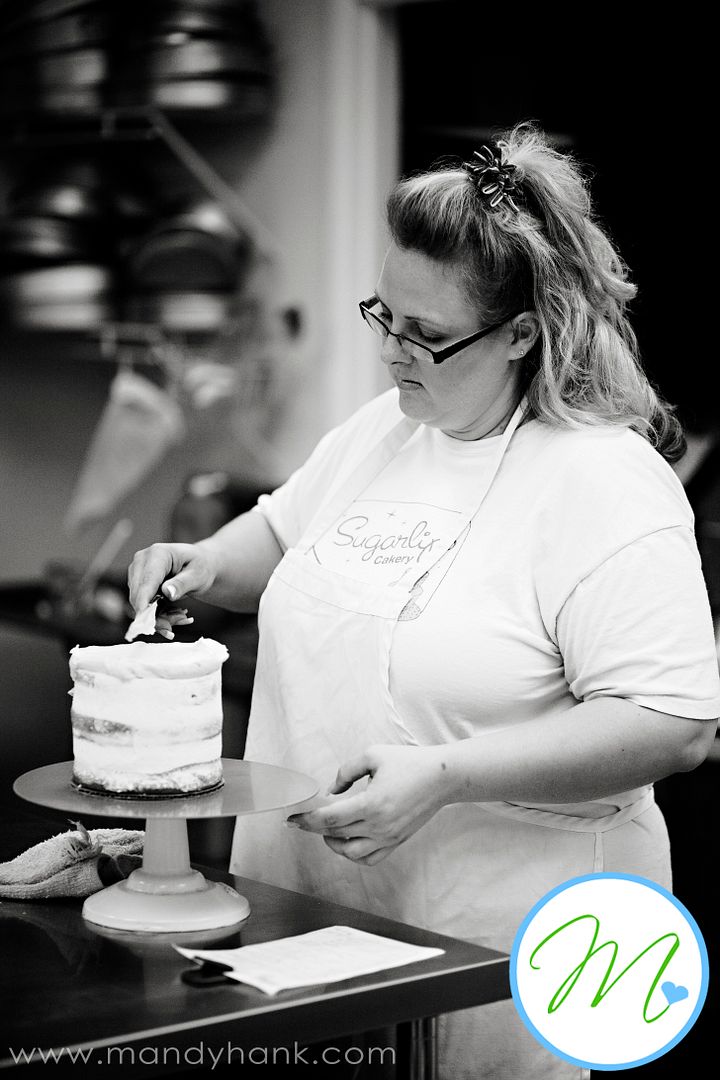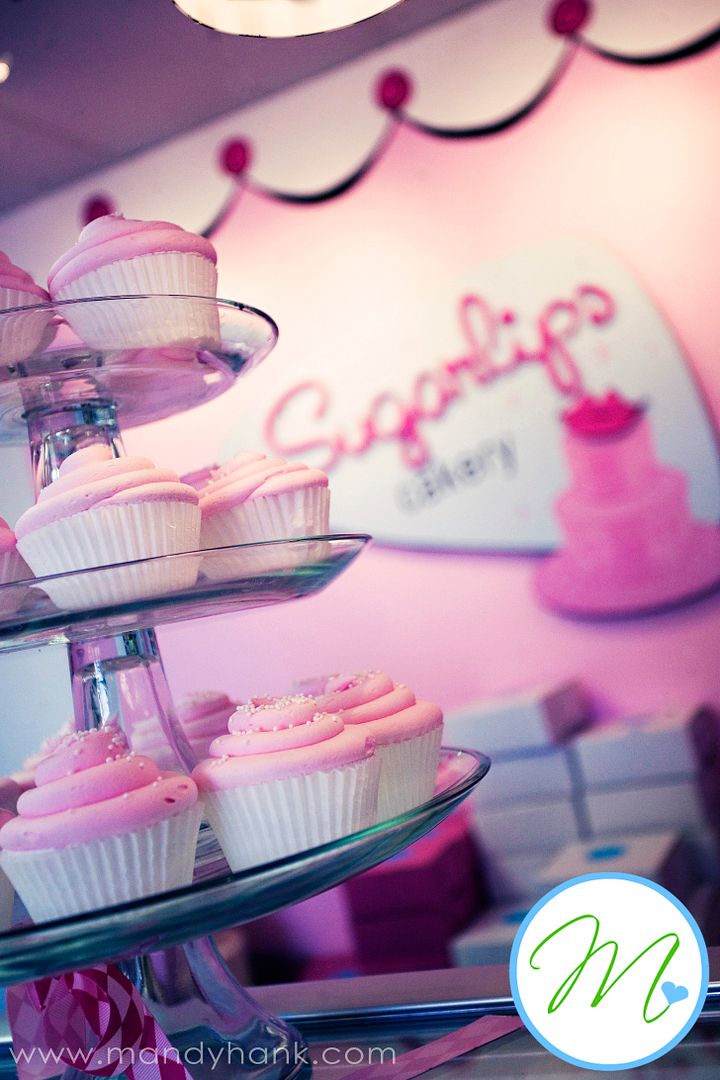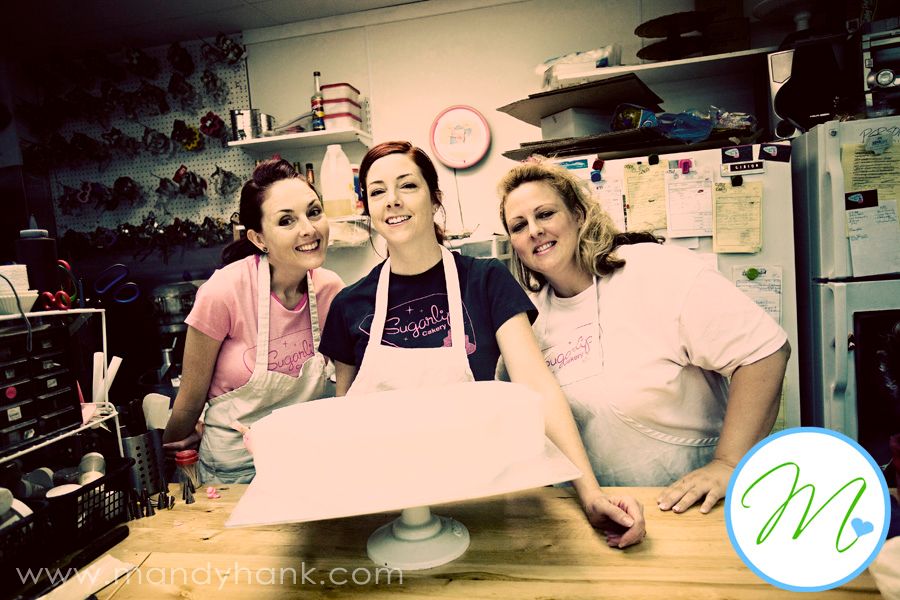 Here are Melodie's questions:
1. How long have you been in business?
Sugarlips Cakery has been in business for over 3 years now. I have been decorating cakes professionally for 19 years.
2. How/Why did you start your own business?
I dreamed of opening my own cake shop for 12 years before I actually did it! I took my time and learned whatever I could about cake decorating. I worked in several different bakeries over the years. But as a creative person, and a bit of a workaholic, I wanted a shop that was entirely of my own creation.
3. What is a typical schedule for you the day of the event making the cake?
This is a good question…the day of the event, there are actually MANY events for us! A typical Saturday, for instance, we are finishing about 30 specialized custom party cakes, and delivering anywhere from one to eight wedding cakes!
So, on the day a cake is picked-up or delivered, it is normally just in the "finishing" stage of being decorated. We don't do any baking on Saturdays, unlike bakers who specialize in muffins or donuts or breads. All our cakes are made fresh to order… and they are all baked by the ovenload mid-week. Every cake layer is individually baked, then immediately wrapped and placed in a giant cooler, until it is time to "build" /"fill", and also crumbcoat. Each goes back into the cooler, until one by one, they are iced in the proper color and type of icing. Finally they each come back out once again, for the finishing work, or decorating. All of this happens throughout the course of our week; that's Tuesday-Saturday.
Wedding cake deliveries must be choreographed and well-timed, and any little hiccough in the schedule can really snowball! We even check the ADOT website every Saturday morning to avoid freeway closures/delays, as these little inconveniences could mean disaster for us! It can be incredibly stressful.
4. What is your favorite part about the business?

I love the satisfaction of a job well done! I love to be able to create someone's vision in cake, especially when it turns out even better than the customer expected! I love to hear the hoots and hollers from the lobby when one of my staff members brings out a customer's fabulous cake! I love to download the all the week's cake photos from my camera, and view all that finished work, knowing that my sore feet and tired body have accomplished something wonderful.

5. What is your least favorite part about the business?
My least favorite part about the business is the stress involved; even though 99.5% of the time our clients are thrilled, sometimes we make something that doesn't fit the vision of the person who ordered. Or there is a misunderstanding of some kind. We work so terribly hard to see to it that everyone is happy, however, once in a while something is just not quite right. And it is so hard to make amends; it's shocking what people will say when they are angry over a cake faux pas. I have certainly learned to be kinder and more understanding as a consumer, through the experience of owning a business!
6. Name something important that you make sure your clients know about you and your business.
We want you to be thrilled with your purchase! We don't want you to spend more than you are comfortable with. We don't want you to have to settle, in any way shape or form. We want to help you find a cake size, flavor, and design, within your budget that you will be excited about. And if we can't do it, we will make our best effort to refer you to someone who can. We care about your occasion, because we know how important it is to you.
7. What is a huge misconception about your industry?
Right now, I think the biggest misconception has to do with all the reality cake shows on tv. We certainly love them, because they raise interest in custom cakes! But many people don't know that the cakes on these shows run in the thousands, pricewise. (The Ace of Cakes has a $1000 minimum order! And that's not even the spectacular ones they cover on the show!) I wish they would state what the client paid for each cake. Many people call us for reproductions of what they've seen on tv, and are flabbergasted when I quote them a couple hundred dollars. It's frustrating when people don't realize that a cake to replicate the Taj Mahal takes more time than a half an hour tv show! ("$500?! But it's just flour and eggs!")
8. What makes your business so unique from others?
We make cakes that look way beyond the ordinary! Some are basic, sure, but you can choose most any theme, and we are up to the challenge! We happily welcome the strange and unusual. We have made cakes upon request that look like Speedo swimsuits, internal organs, and midgets being shot out of canons. It just goes to show you can't get 'everything' at Walmart!
9. What do all clients need to be aware of in your industry?
Think ahead! It's not the best scenario to decide you need the most impressive cake on earth with a few days notice. And if you do require a rush order be prepared to be flexible. And, as always, you catch more flies with honey than with vinegar! As in most any industry, be nice! It can go a long way
Sugarlips Cakery
2120 W. Guadalupe Road ~ Suite 12 ~ Mesa, Arizona 85202
480-292-8891
website: www.sugarlipscakery.com